6PPD(4020)
---
Chemical Name: N-(1,3-dimethylbutyl)-N'-phenyl-p-phenylenediamine
Molecular Formula :C16H24N2
Molecular structure: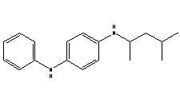 Molecular Weight: 268.40
CAS NO.:793-24-8
Executive standard: GB/T 21841-2008
Specification:

Item

Index

Acceptable end-product

Appearance

Purple brown to black brown granules or flakes

Freezing point,oC ≥

45.0

Loss on drying,% ≤

0.50

Ash,% ≤

0.20

Assay(GC)% ≥

95.0
Properties: Purple brown to black brown granules or flakes,relative density of 0.986-1.00 Soluble benzene,acetone,ethyl acetate,toluene dichloromethane and slightly soluble in ether,insoluble in water.Provides powerful and antioxidant properties with excellent high temperature and flexing resistance to rubber compounds.

Applications:Include the use in pneumatic tire components,solid tires,conveyor,tubes,cables,bushings,automotive mounts
and general rubber products that are exposed to continuous and intermittent dynamic operating conditions and require protect
ozone.

Packing: Net weight 25kg per bag;Lined with PE bag:plastic woven bag;paper -plastic compound bag;Kraft paper bag.
Storage:The product should be stored in the dry and cooling place with good ventilation,The prodeuct should be avoid hot
sunshine.
---
Next product: IPPD(4010NA)